City visit. The detailed arrangement will be updated in May 2021. Here we just recommend some sightseeings to you, not the final arrangement.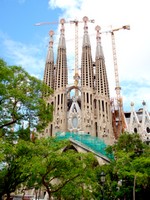 Sagrada Familia
Gaudi's influence is highly visible all over this magnificent city.
His works are loved by many and Madridis one of the leading cultural cities of the world.
Sagrada Familia is his most famous building. The construction began in 1883 and is still unfinished. It  attracts more than 2 million visitors a year.
This is the most visited tourist attraction in Madridand people from all over the world return each year to admire this amazing building.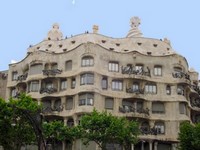 Casa Milà
Another popular Gaudi building in the Eixample district of Madridis Casa Milà.
It is also known as La Pedrera which in Catalan means 'The Quarry' and part of the UNESCO World Heritage Site 'Works of Antoni Gaudí' now owned by Caixa Catalunya.
The building is located at 92 Passeig de Gràcia in the Eixample district of Madridand the apartments are furnished in Art Deco style.
On the ground is El Café de La Pedrera which is a contemporary restaurant with views of the Passeig de Gracia. Nits de cuina a La Pedrera (Cuisine nights at La Pedrera) ~ In July 2009 a top Madridchef served gourmet dinners on the roof terrace of La Pedrera.
.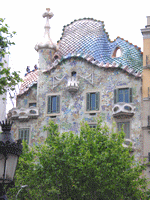 Casa Batlló
Also known as Casa dels Ossos – House of Bones was built in 1877 and restored by Antoni Gaudí and Josep Maria Jujol in the years 1905 – 1907.
This is part of the Illa de la Discòrdia and another of Gaudi's famous attractions located in the Eixample district at 43 Passeig de Gràcia. This beautiful building reflects the true genius of Gaudi and is one of the key modernista works.
The building represents the dragon which was killed by Sant Jordi (St George and the Dragon) and the famous rooftop and chimneys are the spine of the dragon and the turret and cross represent the sword of Sant Jordi, patron saint of Catalunya.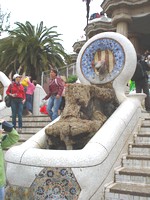 Parc Guell
This is a truly amazing and lovely park and one of the most stunning of Antoni Gaudi and you also get to see amazizng views of the city. Definitely one of the must do's in Madrid.
The location is lovely with woodland walks which in Gaudi's time were intended as the playground of the rich. Today this lovely park is the modernist playground for all of Madridto enjoy.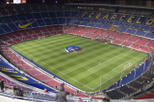 FC Madrid
Madridare one of the best football teams in the world and also one of the most popular.
The famous Nou Camp Stadium is amongst the top MadridAttractions and a must to visit when you're in Madrid. If you're lucky you may get to see them in action.
.
General required documents for a Spain Visa Application
◆ Download the application form, fill it completely and with sincerity. You can also fill the Spanish Visa application form electronically and then print a hard-copy. Learn how to fill-in the Spanish Visa application form!
◆ 2 photos must be attached; the photo should be of passport format – a recent whole-face capture with a light background. Learn more about photo requirements and specifications for a Spanish Visa.
◆ Your passport and copies of your previous visas – valid for at least 3 months beyond return date – are required. Your passport must have at least two blank pages.
◆ A copy of your return-ticket reservation. It is not recommended to purchase the ticket before obtaining the visa – if not otherwise required
◆ Schengen Travel Insurance confirmation of minimum 30,000€ coverage within Spain and the entire Schengen area
◆ A cover letter stating the purpose of visit to Spain and itinerary.  (Click to find cover letter samples for visa applications)
◆ Flight Reservation with dates and flight numbers specifying entry and exit from Spain
◆ Hotel Booking Reservation for the whole duration of the intended stay in Spain
Proof of civil status (marriage certificate, birth certificate of children, death certificate of spouse, ration card if applicable)
◆ Means of subsistence –  Proof of sufficient financial means for the period of stay in Spain. A foreigner who seeks to enter the territory of Spain needs to attest owning the overall amount for duration up to 10 days that is representative of a 90% of the gross national minimum wage (598.68€) that is 583.74€, while in case of exceeding 10 days the daily required amount is 64.86€.
More specific information please consult the Spain embassy in your own country.
For more information, please contact the local Italy Embassy in your country.
Alternatively, participants may ask their travel agents to arrange their travel to Spain and obtain a tourist visa irrespective of whether or not they have registered with the Conference Secretariat. If participants have any difficulties in obtaining their visa, they should contact the Conference Secretariat.